FEATURED PRODUCTS
Featured bedlinen handpicked by our designers
Why choose Mediterranean Linens?
There is no doubt that getting a good night's sleep is an essential element of good health and wellbeing. Choosing bed linen that feels great against your skin and adapts to your body temperature is key to achieving this.
That is why we only use the finest 100% Egyptian cotton to make our products. Hand picked with loving care, this unique long staple yarn offers genuine unrivalled quality. Inherently stronger and gloriously soft, Egyptian cotton is synonymous with luxury and quality.
Choose our bedlinen and you can be confident in that you can unwind and relax in bedlinen that is simply sumptuous, ethically sourced and will stand the test of time.
READ MORE TO FIND OUT HOW WE BRING OUR WONDERFUL BEDLINEN TO LIFE…
All of our bedlinen is crafted from the purest Egyptian cotton. This unique long stapled yarn gives  our bedlinen it's signature strength and luxurious, silky feel.
All our bedlinen is made from 100% Egyptian cotton which is renewable, and biodegradable, making it an excellent choice as an environmentally friendly product.
All of our bedlinen products are sourced in a responsible and sustainable way.
We source our cotton from carefully selected farmers and produce our bedlinen products in our own state of the art facility in Egypt and deliver direct to you.
Why choose Egyptian Cotton?
This high quality cotton offers unrivalled softness. It's lustrous, luxurious feel against the skin makes bedtime something to look forward to.
Egyptian cotton is carefully handpicked to produce long straight fibres that create longer, stronger yarns that are more resistant to stress and pilling.
Egyptian cotton is a very breathable fabric, keeping you cool in summer and warm in the winter.
Egyptian cotton is easy to launder and requires minimal ironing.
Egyptian cotton is totally renewable and biodegradable making it an environmentally  friendly choice.
WIN a £100 Gift Voucher!
Subscribe to our newsletter, to be in with a chance of winning a £100 Mediterranean Linens Gift Voucher!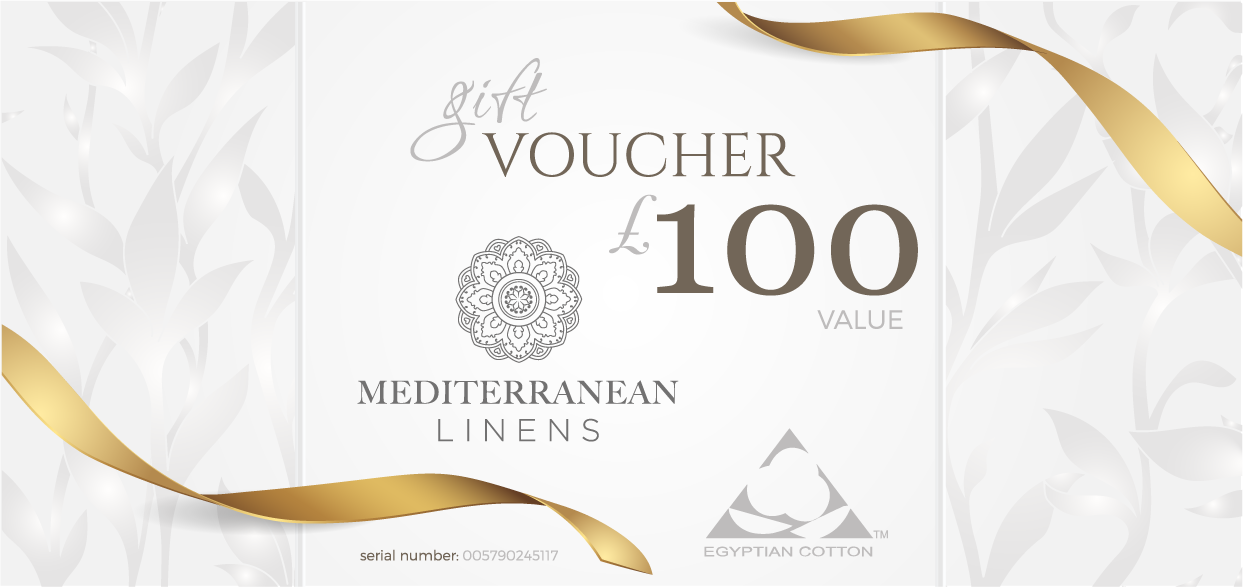 Quality Bed Linen & Hotel Quality Bedding
Mediterranean Linens signature bedlinen collections are all made from 100% Egyptian cotton, with the creation of a high-quality, ethical product at the heart of everything we do.
Our duvet and pillow collections include the 'Essential' Range, offering affordable luxury and the complete bedlinen experience including everything from duvet cover sets, flat sheets to fitted sheets, valance sheets, as well as standard pillowcases and Oxford pillowcases.
While our 'Indulgence' Range offers a luxury experience with bedlinen ranging from an incredibly durable 200 thread count, to a truly indulgent 400. Offered in a range of different colours and styles, this collection presents bedding to suit almost any type of decor or colour scheme.
Yet if hotel quality bedding is what you had in mind, then look no further than our 'Hotel Chic' Range, with an incredible 600 thread count and offered in a range of crisp white designs, the 5-star experience of royal Egyptian bedding is closer than you probably imagined.
We also offer a range of luxurious cotton bath robes, hand and bath towels as well as bath sheets, duvets, pillows as well as mattress protection, pillow protection and selected bedding clearance offers for those looking for a bargain.